in vitro release testing (IVRT)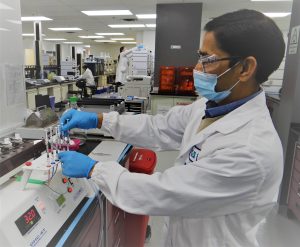 The FDA first released its guidance for industry, in vitro Release Testing and in vivo Bioequivalence Documentation for Non-Sterile Semi-Solid Dosage Forms (SUPAC-SS), in May of 1997 and most recently updated it in October of 2022. The FDA has published multiple guidelines related to the development of generic products and improving patient care. These guidelines support the industry with therapeutic equivalence assessments where in vitro permeation testing (IVPT) and IVRT are used in lieu of in vivo clinical studies. As such, in vitro release testing has become an essential tool to establish therapeutic equivalence during the drug development process of semi-solid formulations.
Development of generic topical formulations require replication of a reference formulation in both content and conduct. This includes mimicking the release rate of the active as characteristic of the formulation. IVRT provides a convenient and reliable tool to measure the release rate of topical formulations and hence, is uniquely qualified to establish bioequivalence.
IVRT is also useful in site transfers, post-approval changes, and use as a QC parameter for batch release and stability monitoring. IVRT is often coupled with IVPT for the approval of topical drug products and is likely to become mandatory for regulatory submissions in the future. Developing an IVRT assay can be challenging, particularly for actives with low solubility and formulations that release slowly. In addition, biases in method design can lead to flawed testing and misleading conclusions, delaying the development and approval of the drug. CPL has successfully completed numerous projects involving topical sprays, gels, and creams in full compliance with regulatory requirements. The data from these projects has been used to obtain successful regulatory approvals.
CPL is pleased to offer the following IVRT services:
• method development and validation
• product testing to support formulation development and to monitor batches from scale-up to commercial manufacturing
• IVRT services to support shelf-life stability, lot variability and site-transfer studies
• comparative testing of generic formulations with Reference Listed Drug to establish bioequivalence in accordance with Mann-Whitney Rank Sum Test
• documentation support for submission to regulatory agencies
In March of 2022, CPL's Sujata Syam led a webinar on the techniques and challenges of IVRT in generic and new chemical entity formulations.